So Karen thinks she's the Queen of Blogging, huh? However, if you look at the posts by the numbers, you will notice that Kristin has the most posts, which would make her the Blog Queen. I have the second highest number, which makes me Blog Princess -- just as much fun as Blog Queen, but with fewer royal duties and more sparkly things.

Anyway, this summer, I've been trying to read all of the Eisner Nominees for 2007. The Eisner is kind of like a comics Oscar -- the best known and most prestigious award you can win for making a comic, graphic novel, or comic related publication. You can check out the nominees here. If there's a bunch of stuff on here you've never heard of, don't feel bad -- for the last couple years the Eisner Committee has been choosing more and more indy comics, which might not show up on your radar.
Before we go any further, there are two things you should know; first off, the Eisner Committee is made of adults, who are picking books for other adults, so there is stuff on this list that is not appropriate for younger teens, secondly, a m
ost of these books I had to inter-library loan, so you won't find them on the shelves at GPL.

Staring with Best Graphic Album - New category, it's really hard for me to pick a favorite.
I love Tony Millionaire's Sock Monkey books, so I was excited to see

Billy Hazelnuts

up for Best New Graphic Album. Billy

Hazelnuts

is a very strange book about a boy made out of trash by mice and his fantastic adventures in an Oz-type world. This book reminded me of a Tim Burton movie, with strange machines and incredible happenings. The art in this book is gorgeous, and almost looks like a woodcut from the middle ages.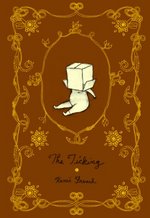 The Ticking, by Renee French, is another beautiful -- but really, really strange -- book. The main character, Edison, is born with hideous facial deformities. He rejects the plastic surgery his father wants, and instead fills his lonely life with art. This book pulls of the neat trick of managing to be really sweet and really disgusting at the same time. I don't know that I liked it, but it did stay with me for a long time.
Fun Home by Alison Bechdel is a sad and beautiful book, about how the author found her life at the same time her dad decided to end his. This is one of those "by adults, for adults" books, as it deals frankly with both Alison's lesbianism and her father's closeted homosexuality. I liked this book for how honest it is, and for Bechdel's clear , uncomplicated drawings


Kristin has already talked about American Born Chinese, so I won't say much about it here, except that if you haven't read it, you really should. When it first came out, I didn't really pay much attention to it, because it's not the type of comic I usually like. Then, when it got nominated for the National Book Award, I looked at it again, and was totally blown away.
The other books in this category -- Scrublands, Ninja and I Love Led Zeppelin -- were nothing special (in my not so humble opinion), and I wouldn't recommend any of them. If you held me down and forced me to pick a favorite, I would probably say Fun Home, just because Bechdel doesn't hold anything back; you can tell she's really trying to understand her dad and their relationship through her comics. I also really like how clean and simple Bechdel's art is. As somebody who can't draw a competent stick figure, I appreciate artists who make it look easy. Number 2 is probably American Born Chinese, 3 is Billy Hazelnuts.
Since I still want to get through the other graphic album categories, this probably won't be my last post about this year's nominees. You can look for some of these books in the adult section at GPL in the near future.