Wow. It's been a long time since I posted. That's not because I haven't been reading, just because I haven't read anything in a while that I feel is fantastic enough to share with everybody.
One of my favorite books from last year was Nick and Nora's Infinite Playlist by David Levithan and Rachel Cohn. Surprisingly, it looks like nobody has talked about Nick and Nora on this blog yet.
Nick, the only straight guy in a queercore band, spots his ex of three weeks in the crowd of one of his shows. Trying to avoid her and/or make her jealous, he asks the girl standing next to him to be his girlfriend for 5 minutes. Seeking to score a ride home for a drunk friend, Norah says yes. The situation gets more complicated though, when Norah spots
her
ex entering the club she's trying to leave. The two, joined by chance and broken hearts, wander through Manhattan, nearly hook-up, separate, get back together, meet exes and friends and cab drivers. The book alternates between Nick and Nora's viewpoint, and the two realize, together, that their five-minute relationship may be much more than chance.
I love this book so much. It's funny and smart and sweet. It's full of great music, and Nick and Nora really act and talk like the teens I know. There's a movie version in the works, and I don't know if I want to see it, just because I can't stand the thought of clueless Hollywood types making a mess of one of my favorite reads.
This year, Levithan and Cohn wrote another book together: Naomi and Ely's No Kiss List. On the surface, this book seems a lot like Nick and Nora's Infinite Playlist. It has the alternating points of view, the fabulous New York lifestyle that I suspect only exists in teen novels, and two people trying to get their lives started.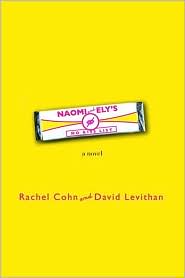 That's where the similarities end however, because Ely and Naomi are childhood friends, and they created the No-Kiss list when it became clear that Ely liked some of the same boys as Naomi. However, even though Ely is gay, Naomi can't give up on the idea that one day, he'll love her the way she loves him. Their whole world comes crashing down when Ely breaks the rules and kisses Bruce the Second, Naomi's current boyfriend. Naomi has to deal with Ely's betrayal, and more importantly, come to grips with the idea that he's never going to be what she wants. Ely realizes, maybe for the first time, what it is to really fall in love.
When I started reading this book, my first reaction was, "it's not as good as Nick and Nora" -- and in a lot of ways, I still think that's true. Ely and Naomi are a lot less likable, and they have a complicated back-story that never really gets the attention it deserves. Also, aside from the two main characters there are other points of view included, and many of these characters just seem like they're along for the ride -- their contributions don't do much to move the plot along or help the reader understand the situation.
However, when I got to the end of the book, I felt like crying. Not that the ending is sad, necessarily, but I really felt for these two people, and what they had lost, and what they were facing in the future. Kearsten once said that nobody writes falling in love like David Levithan, and she's right; the relationship between Bruce the Second and Ely is very sweet and very fragile. Even Naomi, who I pretty much disliked on sight, turns out to be more than she seems.
So, while I wouldn't say that Naomi and Ely's No Kiss List is one of my favorite books, it is very compelling. Not as wonderful as Nick and Nora... but still good.